In recent years, cryptocurrencies have gained tremendous popularity in the UK and around the world, transforming our perception and usage of money. As a result, having a reliable and secure crypto wallet to store and manage your digital assets is essential, regardless of whether you are a newcomer or a seasoned pro in the crypto space.
In this post, we'll explore the best crypto wallet in the UK and provide you with all the information you need.
What Is a Crypto Wallet?
A crypto wallet is a software, physical device, or service enabling users to store, manage, and interact with their cryptocurrencies securely. Picture it as a virtual bank account specifically designed for crypto assets. While cryptocurrencies are decentralised on the blockchain, a crypto wallet acts as your gateway, offering a user-friendly interface to access and control your funds.
Moreover, just as you use a bank account to store and manage traditional money, a cryptocurrency wallet serves as a digital container for your crypto assets. With a crypto wallet, you can store, transfer, and receive various cryptocurrencies such as Bitcoin, Ethereum, Dogecoin, or Litecoin.
However, unlike bank accounts, cryptocurrency wallets rely on cryptographic technology to secure your private keys, which are necessary to access and authorise blockchain transactions.
There are three primary types of crypto wallets, including:
Software wallets are programs or applications you can download and install on your smartphone, tablet, or computer. Here you have multiple wallets to choose from. You can invest in web-based, mobile, and desktop wallets.
A hardware wallet is a device that stores and secures your private keys offline.
A paper wallet is a document or a physical printout that has your public and private keys. It's often generated offline to improve security.
Now that we understand a crypto wallet let's explore the best crypto wallets available in the UK.
Top 5 Picks: Best Crypto Wallet UK
1. Exodus Wallet
Exodus is a well-known cryptocurrency wallet provider offering a user-friendly and intuitive interface for managing crypto tokens. The wallet supports over 260 tokens from various networks, including Bitcoin, Ethereum, Solana, and Binance Smart Chain.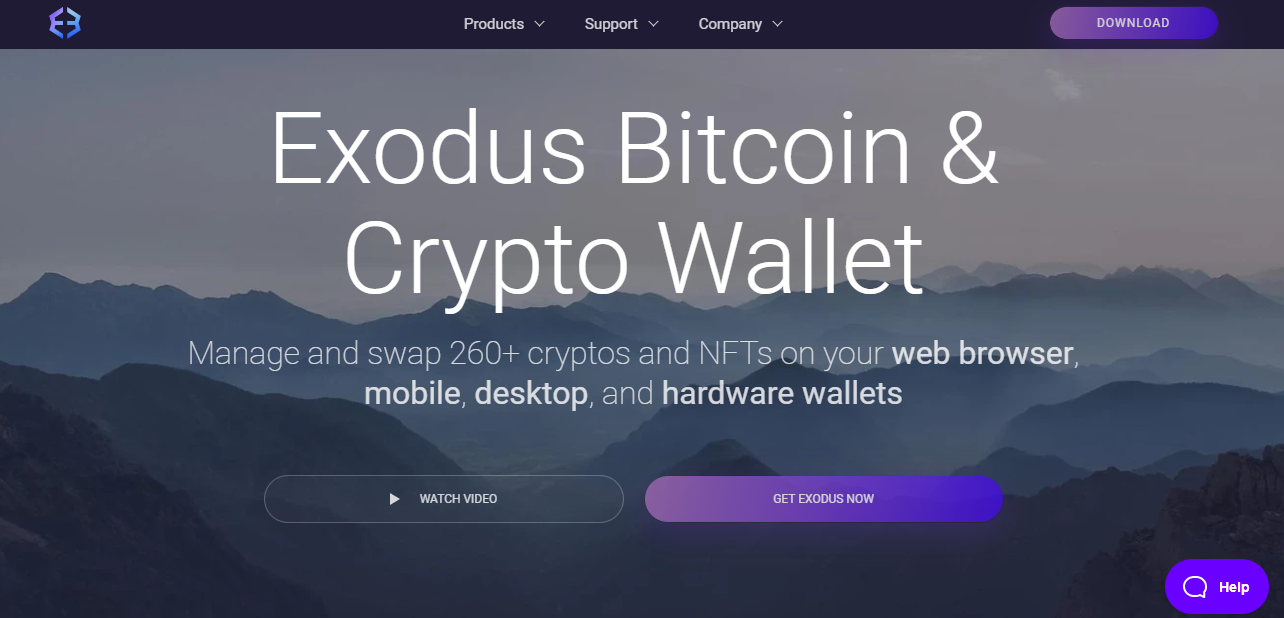 Additionally, Exodus can be downloaded on different devices, including Android and iOS for mobile phones, as well as Windows, Linux, and Mac for desktops. There are also Chrome and Brave browser extensions available.
The Exodus wallet is compatible with Trezor, one of the best crypto hardware wallets. This integration allows you to store your tokens on Trezor while being able to view balances on the Exodus app. Furthermore, the Exodus portfolio dashboard displays the real-time value of each token in GBP.
While Exodus provides 24/7 customer support, it's important to note that they can't assist with recovering tokens if your wallet is compromised.
Pros
It offers a user-friendly interface
It's available as a mobile app, desktop software, or browser extension
It offers a wide range of supported cryptocurrencies and supports over 260+ tokens
It provides responsive customer support
Cons
It doesn't directly support crypto purchases
2. Trezor Wallet
The Trezor hardware wallet, which looks like a small USB drive, is a secure and reliable solution for storing and managing your cryptocurrencies. Trezor always provides cold storage and requires a PIN to transfer the token. Besides, Trezor can be recovered remotely by entering the backup passphrase through an external wallet.
Trezor is a hardware wallet that supports a wide variety of blockchains and thousands of coins. However, it doesn't have built-in features for buying or selling cryptocurrencies. To facilitate such transactions, the option is to link Trezor to the Invity Exchange remotely.
There are two main options: the Trezor Model T, which offers enhanced security features, is priced at £213. On the other hand, the Trezor Model One is available for £66.
Pros
It uses offline storage, commonly referred to as "cold storage."
Compatible with Windows, Linux, and macOS operating systems
Offer enhanced security; transfers require authorisation by entering a PIN on the device
Supports thousands of crypto tokens
Cons
Costly compared to software wallet options
3. eToro Crypto Wallet
eToro is a Financial Conduct Authority (FCA)-a regulated cryptocurrency broker that also provides one of the best crypto wallets for UK investors. The eToro wallet keeps the digital assets in cold storage, and there is no requirement to download or install any software.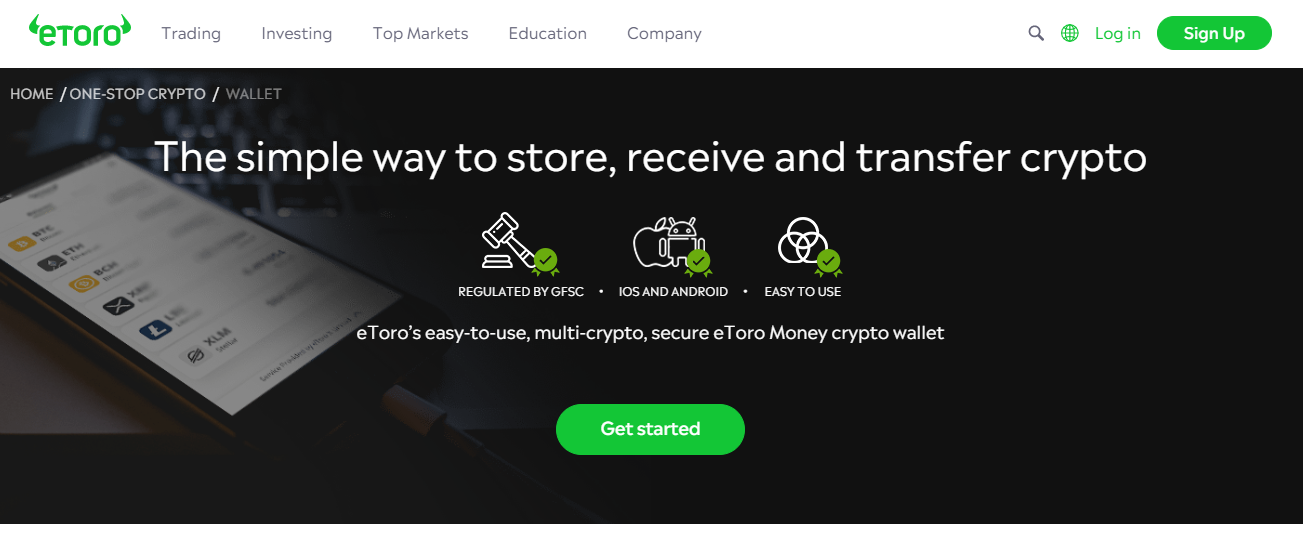 As one of the best cryptocurrency brokers in the UK, eToro offers a mobile wallet application for investors looking for more control over their cryptocurrency tokens. This eToro application is accessible on iOS and Android devices. Besides, the wallet app features an "unlosable private key" feature, allowing you to recover access to the wallet if you have forgotten your login credentials.
Furthermore, the eToro wallet supports over 70 other digital currencies. Also, its web and mobile wallets are free to use, and GBP deposits cost just 0.5%. Additionally, eToro offers copy trading tools, which allow UK investors to replicate the trades of pro traders.
Pros
Ideal crypto wallet for investors
It supports over 70 cryptocurrencies
Allows users to replicate the trades of pro traders automatically
It's a regulated platform
Cons
It's not ideal for investors looking for a non-custodial wallet
4. Trust Wallet
Although Binance backs Trust Wallet, it operates independently from the exchange. It offers non-custodial storage of digital assets; therefore, you will have full control of your crypto tokens and private keys.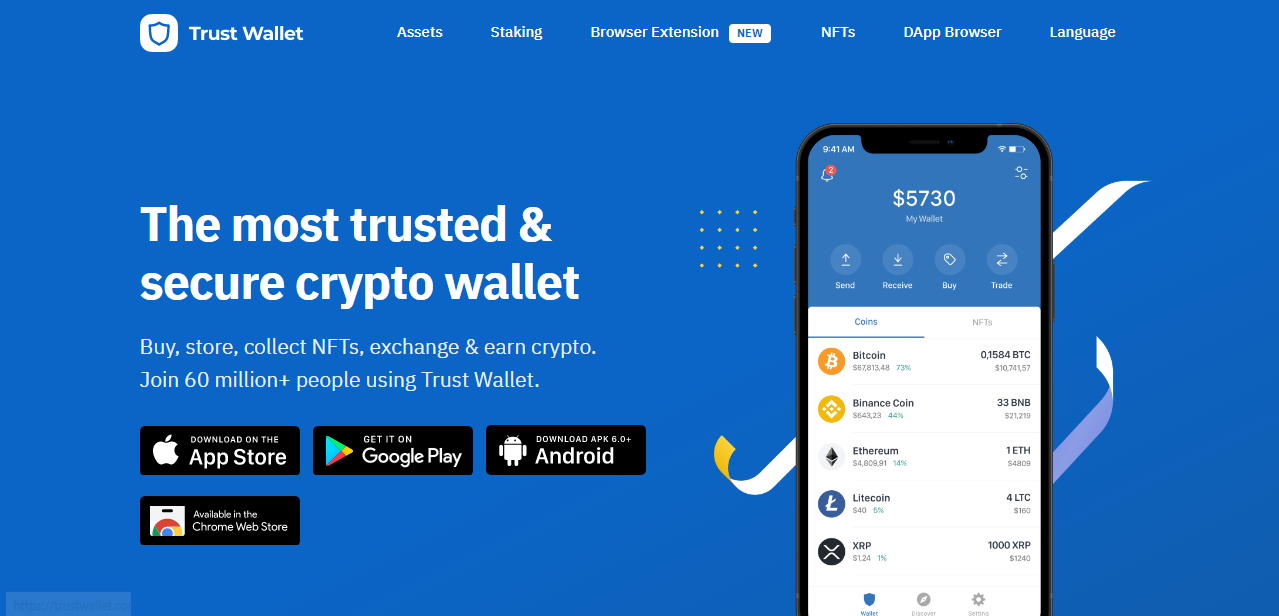 You can access the wallet as a mobile app for Android and iOS. There are also Chrome, Microsoft Edge, and Brave browser extensions. Besides, Trust Wallet supports over 65 blockchain networks, translating into more than 4.5 million digital assets.
Additionally, Trust Wallet is compatible with Decentralized Finance (DeFi) apps such as PancakeSwap. This lets you buy and sell tokens on the Binance Smart Chain using the wallet. Besides, the wallet allows you to earn interest on your idle tokens. Also, if you have NFTs, this wallet is perfect for storing them.
Pros
It offers a user-friendly interface
Supports more than 65 blockchain networks
It offers non-custodial storage of digital assets
You can earn interest on your idle tokens
Cons
It's primarily designed for mobile devices
5. Binance Wallet
Binance Wallet is also among the best crypto wallets in the UK. It usually operates alongside its crypto exchange, which supports hundreds of pairs. Therefore, this makes it convenient, especially for active traders who frequently buy and sell crypto.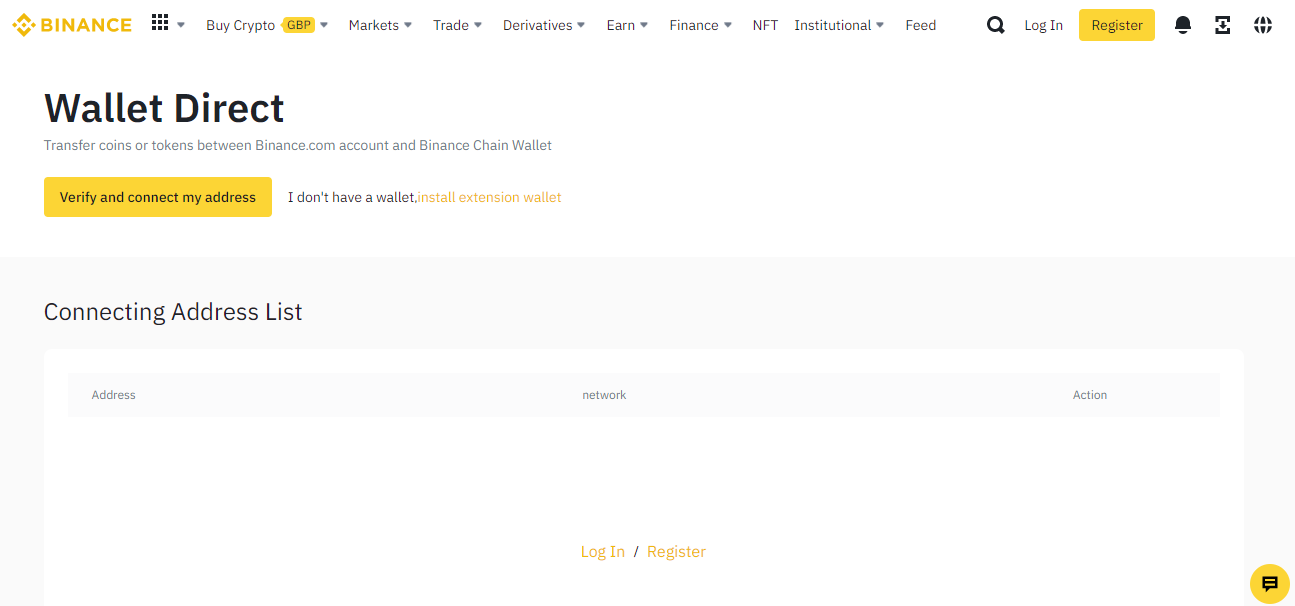 The Binance wallet app syncs with the web wallet conveniently. In both options, you can deposit and withdraw cryptocurrency on a wallet-to-wallet basis. Another thing that makes Binance unique is its exchange platform. For example, you can trade BTC/GBP and a few more popular pairs at 0% commission. All other pairs attract a commission of 0.1%.
When it comes to security, both the mobile app and Binance Web are protected by two-factor authentication. You are required to confirm the login request via SMS code and email. Besides, Binance provides its users with a safe asset fund (SAFU). This is an internal treasury fund to compensate users during a hack—trading commissions collected by the exchange usually fund SAFU.
Pros
It offers non-custodial storage of digital assets
Super-low trading commissions for BTC and GBP that start at 0%
Two-factor authentication for enhanced security
Ideal Bitcoin wallet for active traders
Cons
Users might experience delays with customer support.
Conclusion
When choosing the best crypto wallet in the UK, there are several great options, each with strengths and weaknesses. It's crucial to consider your specific needs, security preferences, and level of technical expertise. Among the top options, Exodus Wallet stands out for its user-friendly interface.
Trezor, on the other hand, offers enhanced security through its offline storage and PIN authorisation, making it a reliable choice for long-term storage. The eToro Crypto Wallet is an ideal option for investors. Trust Wallet provides non-custodial storage and compatibility with the DeFi app. Finally, Binance Wallet offers convenience for active traders with its wallet-to-wallet transactions and low trading commissions.
Frequently Asked Questions on Best Crypto Wallet in the UK
1. What is the Safest Crypto Wallet in the UK?
eToro. It is an FCA-regulated crypto broker offering UK investors the best crypto wallet. Also, the wallet app features an "unlosable private key" feature, allowing you to recover access to the wallet if you have forgotten your login credentials.
2. Which Crypto Wallet Has the Lowest Fees in the UK?
Binance wallet. Its fees are competitive, starting at 0.1% for trades with no deposit or withdrawal fees. Another popular crypto wallet with the lowest fees is eToro. Its fees are also competitive, starting at 1% for trades with no deposit or withdrawal fees.
3. What is the Best Trusted Crypto Wallet in the UK?
Exodus is one of the best-trusted crypto wallets in the UK, available as a desktop or mobile app. It's convenient to use and has a user-friendly interface. Also, the Exodus desktop wallet portfolio dashboard displays the real-time value of each token in GBP.